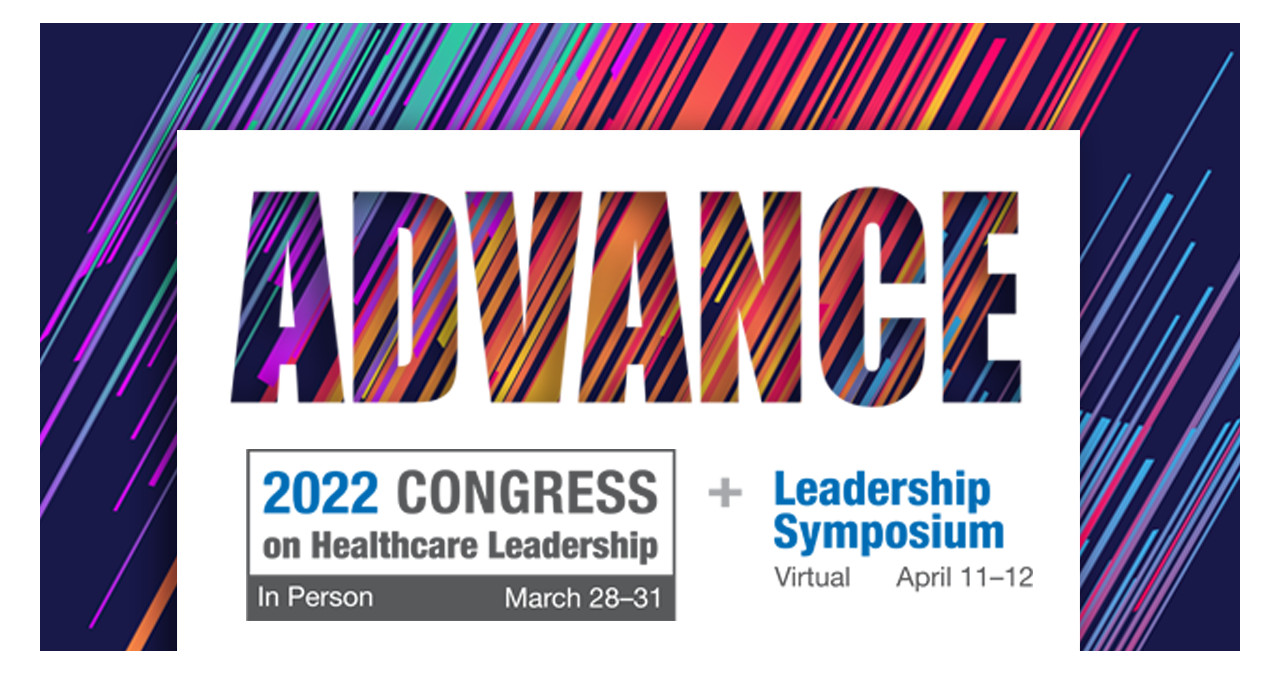 Much has changed in the healthcare leadership field in the last two years, and ACHE has been rapidly evolving our education, networking and member benefits to ensure you have the resources you need. The annual Congress on Healthcare Leadership is the can't-miss event of the year—and it's never been more important to share progress, innovations and best practices with your colleagues.
Registration is now open for the 2022 Congress! Here are five need-to-know details for planning your itinerary:
1. Congress is in person.
That's right—Congress is once again in person at the Hyatt Regency Chicago, March 28–31. We're as eager as you to come together safely for the first time since 2019.
There are many lessons to share and successes to celebrate. Be inspired by more than 150 sessions and 250 expert faculty, including four keynote speakers who are known nationally as leaders in their respective fields. Welcome new Fellows at Convocation. Connect with colleagues at three luncheons and 14 networking sessions. Learn about new topics during Leadership Insights, Master Series and Boot Camp sessions.
Start planning now—early bird registration pricing ends March 7.
2. You'll need to be vaccinated.
Your safety is our highest priority. In alignment with our values and commitment to safety for our members, community and onsite staff, ACHE will require anyone who attends an in-person event to be fully vaccinated against COVID-19. This includes all attendees, faculty, staff and exhibitors. To validate vaccination status, all participants will have to either submit proof via the CLEAR Health Pass app, or onsite through the concierge validation service.
In addition, in accordance with CDC recommendations, masks will be required for everyone while indoors. As new developments arise, we will continue to evaluate and communicate decisions related to masking and social distancing.
3. The schedule has changed a bit.
The 2022 Congress will be March 28–31. Monday through Wednesday will be available to all leaders, while Thursday, March 31, is reserved for federal sector education and events. Attendees can still earn 12 ACHE Face-to-Face Education credits, purchase additional hours and add on Boot Camps. There will also be a Congress Express option to earn your hours in just one and a half days, instead of three.
4. You can bundle with the Virtual Leadership Symposium.
While there won't be a synchronous online event, ACHE will host the first Virtual Leadership Symposium, April 11–12. This two-day conference will have its own keynote speakers and sessions, with unique virtual networking and career development opportunities. The event will offer up to 6 ACHE Face-to-Face Education credits. Congress registrants can receive a discounted registration to the Virtual Leadership Symposium by adding the event to their in-person Congress registration before March 31.
5. There's something for everyone.
Whether you're a CEO, early careerist or student, Congress has something of interest to healthcare leaders at every stage of their career and in every area of focus. You'll find a broad range of session topics on innovation; safety and quality; workforce; operations; technology; diversity, equity and inclusion; and much more. And the reimagined Solutions Center will host daily networking opportunities and career advancement sessions, plus cutting-edge presentations from industry leaders on the new Ignite Stage.
You'll choose your sessions when you register, so start browsing the agenda today! We look forward to seeing you in Chicago, March 28–31, for the 2022 Congress on Healthcare Leadership.