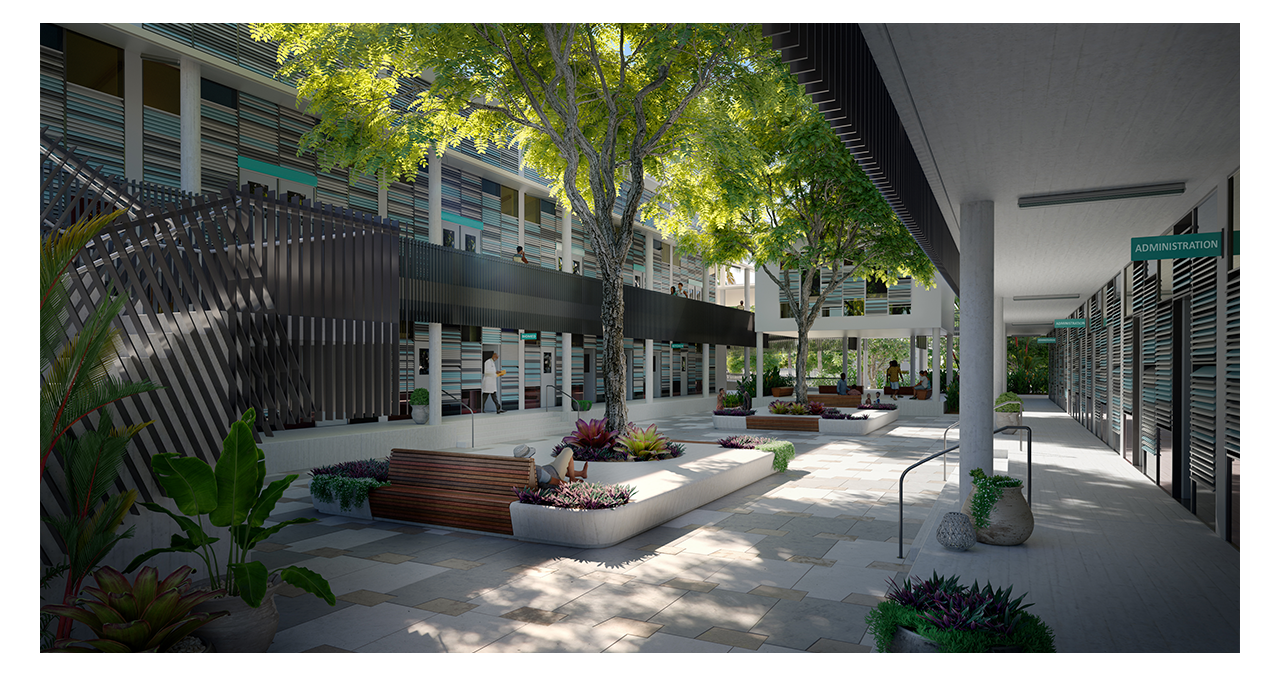 Traditionally, concepts related to sustainable design focus on the co-existence of both the natural and the built environments, often conjuring up images related to saving our earth: planting trees, building wind farms, collecting pollution from the ocean. Over the last few decades, the concept of sustainability has gained traction in the design community with building rating systems and standards alongside the emergence of professional credentialing.
There is a recognized need to expand the facets of holistic, sustainable design given the complex challenges within healthcare. Usually, three pillars of sustainability are considered to include economic, social and environmental dimensions. In this blog post, we propose and describe a fourth: systems sustainability.
Case Study: The New Betio Hospital in Kiribati
Kiribati (pronounced 'Ki-ree-bas'), which is approximately halfway between Australia and Hawaii, has a population of approximately 110,000 people spread over 32 islands. Local health issues include high rates of infectious disease, high mortality for children under five and an increase in noncommunicable diseases like diabetes.
In 2018, the New Zealand Ministry of Foreign Affairs and Trade engaged a team of architects and health planners at Jacobs (in partnership with Sapere) to provide a Clinical Service Plan and Masterplan for improving the healthcare system and facilities across Kiribati. Currently, Jacobs is undertaking the concept design of a new hospital in Betio on South Tarawa.
Environmental Sustainability
There is an ethical responsibility for a project team to advocate for environmentally sustainable initiatives during design and construction. Kiribati's islands are extremely remote, have no fresh running water and are expected to suffer from 5.5 inches of sea level rise in 30 years. The primary environmental design strategies for the new hospital are:
Raising the ground plane of the building to accommodate for sea level rise.
Minimizing energy use through passive solar design and ventilation.
Landscaping to improve biodiversity and contribute to passively cooling the building.
Harvesting rainwater for irrigation and toilet flushing.
Sourcing renewable building materials to lessen the manufacturing carbon footprint.
Social Sustainability
In a health setting, social sustainability relates to the ability for hospitals and healthcare systems to enhance quality of life and improve well-being in a population. Healthcare architecture facilitates connections, enables access, improves health and enhances equity.
For the new Betio Hospital there were several strategies proposed to improve the level of care for the population:
Encouraging hospital attendance by creating an open central courtyard, symbolizing transparency of the treatment process (less institutional).
Focusing on providing the most important hospital departments to deliver the crucial services and have a bigger impact on positive health outcomes.
Accelerating patient recovery rates through infection control and incorporating salutogenic design.
Improving access and equity to healthcare by decentralizing primary care from one main hospital to various smaller sites over the island.
Economic Sustainability
There is a strong correlation between poverty and its contribution to negative health outcomes in society. The new Betio Hospital concept addresses strategies for both the procurement of the hospital as well as the subsequent operational costs to ensure fiscal success for the health system as well as the population. These strategies include:
Capacity building through the construction process to upskill local laborers and support local employment.
Reduced operational costs through renewable energy and minimizing waste.
Capacity building of clinical workers through improved services and model of care.
While there can be perceived extra costs with sustainability, the cost benefit analysis over the life cycle of the facility proves more sustainable options are cost effective. Design decisions encompass a bigger picture of life cycle costs, futureproofing, and the ability of the facility to improve the local economy.
Systems Sustainability
While not a traditional pillar of sustainability, it may be pertinent to consider this facet of systems in healthcare, which serves to encompass the complexities in this setting. The healthcare system has been described as a four-level framework: the patient, the care providers and staff, the organization and the operations. A few examples of systems sustainability include:
Staff retention—Improving building standards and efficiency for staff to ultimately improve job performance and satisfaction. For example, the new Betio Hospital is designed for shorter staff travel distances, consideration of department adjacencies and providing respite spaces to reduce stress and improve staff well-being.
Technology—Integrating the digital and built environments to create a digital roadmap to improve users' understanding of their surroundings, medical procedures and events. This can lead to improved expectations and experiences by patients and staff. Transitioning to a digital platform also plays a key role in data collection and application at the new Betio Hospital.
Resiliency—Designing for the ability to adapt successfully in the face of trauma or significant threat, both at the individual and systems levels. Ensuring space flexibility and convertibility, in addition to surge capacities is paramount in planning for the future.
The overall goal of systems sustainability is to improve building performance, and in turn, health outcomes, care delivery and efficiency of operating systems. The application of Evidence-Based Design principles to base design decisions on existing empirical data can serve to further improve system performance.
The sustainability model can help in re-framing our understanding of hospitals as facilities that not only aim to improve patient health outcomes, but as facilities that simultaneously aspire to enhance the natural environment, to foster healthy communities with equitable access to care, and to support the economy.
---
Shari Blanch is an architectural graduate at Jacobs, an architecture and engineering solutions company. Diana Anderson, MD, is a principal of Jacobs.