HAP Summer Sale: Order any book now through September 7 and receive a 20% discount when you use the promo code SUMMER21 at checkout. This discount excludes any multi-book sets that are already discounted and the ACHE Board of Governors Examination flashcards.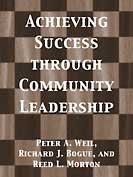 Achieving Success Through Community Leadership
ISBN: 9781567931662
Softbound, 104pp, 2001
Order Code: 1136I
ACHE Management
Member Price: $10.50
Non Member Price: $15.00
Book Description
Improve the health of your community and benefit from increased staff loyalty, reduced costs, and excellent market intelligence!
This book is the result of a three-year collaborative research project between the American College of Healthcare Executives and the American Hospital Association. The project was designed to uncover the practices put in place by hospitals that have been recognized for their efforts to improve community health. This handbook provides real-life governance and management examples of 25 practices discovered during site visits at leading hospitals. It includes various forms and tips to help you implement the practices at your organization.
Practices discussed include:
Investing in community health systematically
Promoting community health with and through partners
Creating a community health information unit
Developing strong support networks with the community
Holding recognition events to honor community health activists