Delvecchio S. Finley, FACHE
Speaker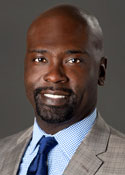 CEO
Atrium Health Navicent
777 Hemlock St
Macon, GA 31201
Phone:
(478) 633-6805
Biography
Delvecchio S. Finley, FACHE, is CEO, Atrium Health Navicent, Macon, Ga.
He also serves on the Board of Governors of the American College of Healthcare Executives, an international professional society of more than 48,000 healthcare executives who lead hospitals, healthcare systems and other healthcare organizations. With comprehensive programs in credentialing, education, career counseling, publications and research, ACHE works toward its goal of being the preeminent professional society for leaders dedicated to advancing health.
Board certified in healthcare management as an ACHE Fellow, he served as an ACHE Regent for California—Northern & Central from 2007 to 2010, as president of the ACHE chapter California Association of Healthcare Leaders from 2007 to 2008, and on many ACHE committees.
Before joining Atrium Health Navicent, Mr. Finley served as CEO of Alameda Health System, Oakland, Calif., from 2015 to 2021. Prior to that he was CEO, LA County/Harbor–UCLA Medical Center, Torrence, Calif., from 2011 to 2015; vice president, operations, for support and professional services at California Pacific Medical Center, San Francisco, from 2010 to 2011; interim COO, Laguna Honda Hospital and Rehabilitation Center, San Francisco, in 2009; and hospital associate administrator, diagnostic and support services, San Francisco General Hospital and Trauma Center, from 2006 to 2009. Previously, he held various management positions at the University of California, San Francisco, from 2003 to 2006; and analyst positions with the San Francisco Department of Public Health in 2003 and the Office of Governmental and Community Affairs, Emory University, Atlanta, from 1999 to 2000.
In addition to his service to ACHE, Mr. Finley serves on the boards of the following organizations: Heluna Health, National Center for Healthcare Leadership, California Hospital Association, California Association of Public Hospitals and Health Systems, America's Essential Hospitals Institute, Alameda Alliance for Health and the Alameda Health System Foundation. He also served as president of the Golden State (Northern California) Chapter of the National Association of Health Services Executives in 2007; as a Fellow of the National Association of Public Hospitals in 2008; and as a Fellow, Change Agent Program, UCSF Center for Health Professions, from 2009 to 2012.
Mr. Finley is the recipient of various awards from ACHE, including the Robert S. Hudgens Young Healthcare Executive of the Year Award in 2014; the Service Award in 2008, 2011 and 2014; and the Regent's Award for Senior-Level Healthcare Executive in 2007. Additionally, he received Modern Healthcare's Up and Comers Award in 2015, and he was named to Modern Healthcare's Watch List, Top 25 Minorities in Healthcare in 2016 and Becker's Hospital Review's Top Healthcare Executives Under 40 in 2014.
He received a master's degree in public policy from the Sanford Institute of Public Policy at Duke University, Durham, N.C., and a bachelor's degree in chemistry from Emory University, Atlanta.