Mary C. Starmann-Harrison, FACHE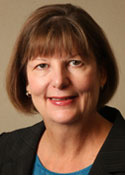 Biography
Mary C. Starmann-Harrison, FACHE, is president and CEO, Hospital Sisters Health System, Springfield, Ill.
She also serves on the Board of Governors of the American College of Healthcare Executives, an international professional society of more than 48,000 healthcare executives who lead hospitals, healthcare systems and other healthcare organizations. With comprehensive programs in credentialing, education, career counseling, publications and research, ACHE works toward its goal of being the preeminent professional society for leaders dedicated to advancing health.
Board certified in healthcare management as an ACHE Fellow, Ms. Starmann-Harrison also currently serves as board chairman of the Illinois Health and Hospital Association and on the board of the Hospital Sister Health System. Previously, she served as a board member of the American Hospital Association and as board chairman of the Wisconsin Hospital Association. She also served as an alternate delegate ACHE Representative to the Professional/Technical Advisory Committee for The Joint Commission from 1992 to 1994, and as delegate ACHE Representative to the Professional/Technical Advisory Committee from 1995 to 1996.
Before joining Hospital Sisters Health System in 2011, she served as the regional president and CEO, SSM Health Care of Wisconsin, Madison, from 1998 to 2011, and as CEO, Western Region, Tenet Physician Services, Phoenix, from 1997 to 1998. Ms. Starmann-Harrison was part of the SSM Health Care team that received the Malcolm Baldrige National Quality Award in 2002—the first healthcare entity to receive this prestigious award.
Between 1978 and 1999, she held several leadership roles at St. Luke's Medical Center, Phoenix: CEO, from 1988 to 1997; vice president, acting administrator, from 1987 to 1988; vice president, medical services, from 1984 to 1987; assistant administrator/program administrator, from 1979 to 1984, and as an administrative resident in 1978. Ms. Starmann-Harrison began her career in healthcare as a registered nurse in the ED of Phoenix Baptist Hospital and Medical Center between 1977 and 1978.
In 2013, Ms. Starmann-Harrison received the Wisconsin Hospital Association Distinguished Service Award and Modern Healthcare's Up and Comer Award in 1988.
She received a master's degree in health service administration and a Bachelor of Science degree in nursing from Arizona State University, Tempe, Ariz.