Sara M. Johnson, FACHE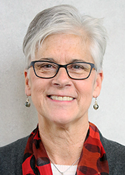 Dir of Exec Ed/O'Neill School of Public & Envir Affairs
Indiana University
801 W Michigan St - Ste BS4088
Indianapolis, IN 46202
Phone:
(317) 274-2843
Biography
Sara M. Johnson, FACHE, is director of executive education at the O'Neill School of Public and Environmental Affairs at Indiana University.
She also serves on the Board of Governors of the American College of Healthcare Executives, an international professional society of more than 48,000 healthcare executives who lead hospitals, healthcare systems and other healthcare organizations. With comprehensive programs in credentialing, education, career counseling, publications and research, ACHE works toward its goal of being the preeminent professional society for leaders dedicated to improving health.
Board certified in healthcare management as an ACHE Fellow, she served as the ACHE Regent for Indiana from 2013 to 2016.
Ms. Johnson teaches graduate and executive education courses at SPEA and at the Richard M. Fairbanks School of Public Health. She also is the owner and president of Perspective LLC, a company specializing in leadership development in health care and non-profit organizations. She also teaches courses in executive leadership, individual and organizational behavior, the U.S. health policy and ethics, human resources in health care and public organizations and contemporary issues in healthcare.
As the director of executive Education, Ms. Johnson leads a team of over 30 faculty who specialize in leadership development in healthcare, nonprofit organizations, and public affairs. Her areas of expertise include executive leadership, the health care industry, organizational behavior and development, human resources, nonprofit leadership, and governance and strategic planning.
She is the recipient of several awards from the American College of Healthcare Executives, including the local chapter's 2011 Platinum Award for Outstanding Service to the field of Health Management. Additionally, Ms. Johnson received a "Favorite Professor" Award from Indiana University-Purdue University at Indianapolis in 2011, 2014, and 2016. In 2015 Ms. Johnson received the Distinguished Service Award from ACHE. In 2016 she was awarded a prestigious External Affairs Recognition as well as an External Achievement Award from IUPUI.
Ms. Johnson serves on various community nonprofit boards and is a member of Executive Women in HealthCare, a member of the Society of Human Resource Management and the Indiana Healthcare Executives Network. Additionally, she is a member of the American Public Health Association and its Ethics Subcommittee and is a member of NASPAA, The Network of Schools in Public Policy, Affairs and Administration.
Ms. Johnson earned a master's degree in health administration and a bachelor's degree in health services management from Indiana University, and she has pursued doctoral studies at Trinity Seminary.