Stephen M. Merz, FACHE
Speaker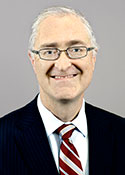 Principal
Merz Healthcare Consulting, LLC
Biography
Stephen M. Merz, FACHE, is executive vice president, Diamond Healthcare, Richmond, Va. His career spans more than 25 years and has included ever-increasing responsibilities in healthcare administration and behavioral healthcare. Most recently, Mr. Merz was president/CEO of Maine Behavioral Healthcare in Falmouth, Maine, a $100 million, 1,200-employee comprehensive mental health organization. Previously, he was the vice president/executive director of behavioral health at Yale New Haven Hospital in New Haven, Conn.
At Maine Behavioral Healthcare, Mr. Merz undertook a number of initiatives to help transform and integrate behavioral healthcare into the system, including establishing alternatives to acute care settings, developing novel approaches to the treatment of chronic conditions (e.g., depression and developmental disorders) and ensuring that behavioral healthcare services were financially viable.
He has served on national and regional boards, including the National Association of Behavioral Healthcare, chaired the Behavioral Healthcare Councils of the Maine and Connecticut Hospital Associations and served as the ACHE Regent for Connecticut.
Mr. Merz serves as faculty for the following ACHE seminar:
Behavioral Health Challenges, Strategies and Solutions: The Business Case for Meeting Community Needs