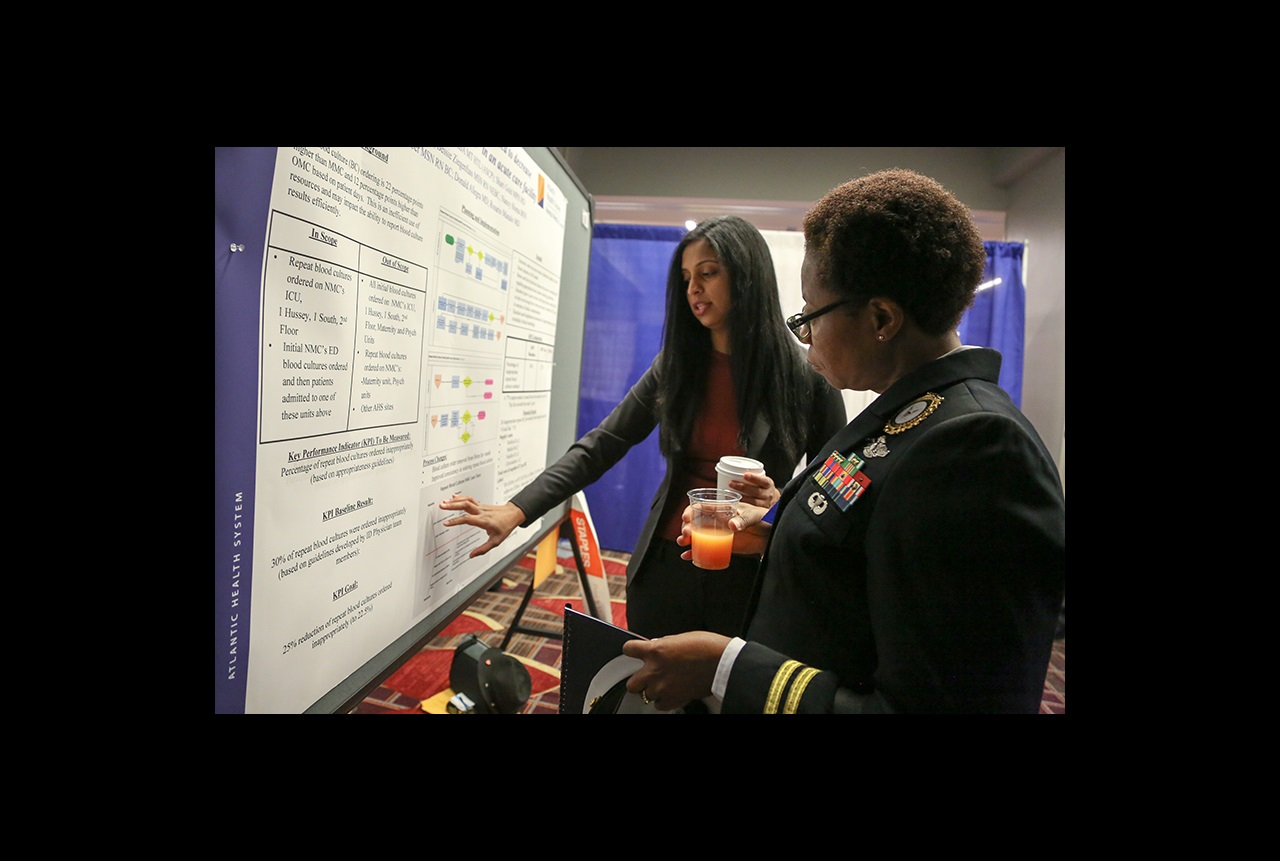 We are interested in learning about your management innovations. We are inviting you to submit narratives of your posters for consideration for the 37th Annual Management Innovations Poster Session.
The posters will be displayed at the 2022 Congress on Healthcare Leadership in Chicago on March 28–31, 2022. Submissions will be accepted through January 18, 2022.
The types of innovations we are interested in are those that address issues affecting your organization that might be helpful to others, including improving quality or efficiency, improving patient or physician satisfaction, implementation of electronic medical records, uses of new technology, and similar topics.
Take advantage of this opportunity to:
Show the areas in which your organization excels
Share your findings and insights with other leaders
Participate in a healthcare activity that counts toward advancement or recertification for the FACHE® credential
Submission Instructions
Narratives should be submitted as an email attachment to PosterSessions@ache.org. When submitting, please include the following in a brief, one-page narrative:
Title
Authors
Objective of program
Planning/research methods
Implementation methods, including sample sizes
Results (e.g., cost savings, increased productivity, improved quality of care)
Selection Criteria
Submissions will be judged on clarity in communicating the innovation and relevance to practitioners in a broad range of settings. A chief criterion for selection will be explicitness of the results. For example, narratives explicitly stating the dollar amount of revenues raised, degree of improvement of satisfaction scores, etc. are more likely to be selected.
Display at Congress

All accepted authors will be expected to provide their poster for display at Congress, and posters will remain on display from March 28–30, 2022. The poster narratives will be published in the 2022 Management Innovations booklet available at ache.org, and the booklet will be available as a handout at Congress. Accepted authors will also be asked to provide a digital copy of their poster for display on ache.org.
Presenting at Congress does not preclude you publishing your work in other forums. By submitting an abstract to the American College of Healthcare Executives ("ACHE"), you are granting to ACHE a royalty-free, worldwide and perpetual license to use, reproduce, post, publish and distribute your abstract, in whole or in part, in any way in the future, with appropriate attribution to you.
2020 Poster Presentations
ACHE would like to thank the authors of the 2020 Management Innovations Poster Session for sharing their innovations with other healthcare leaders. The following is a list of posters and narratives from the poster session.
Access to Care
Expanding After-hours Access for Echocardiography Services
Robert S. Platou, Ryan A. Fix, Ron Buono, et al.
Narrative (PDF) | Poster (PDF)
---
Burnout
What's Getting on Your Nerves? Creation of Neurology Advisory Group
Alexander G. von Bormann, Karen Helfinstine, Sarah Yeakel, et al.
---
Efficiency
Increasing Diagnostic Testing Access for Newborns With Suspected Hearing Loss
Bryan Hujsak, PT, DPT; Evelina Berman; Maria Begliomini; et al.
---
Length of Stay
Improving Emergency Department Patient Flow Through Automated Visual Management Systems
Hugh Welch; Michael Faircloth, MD; Kim Joye, RN; et al.
---
Patient Safety and Quality
An Innovative Approach to Mental Health Care Delivery Throughout a Woman's Pregnancy Journey: Leveraging Education, Outreach, and Advanced Informatics Technology From Women's Health to Pediatrics
Holly Barbella, RN, FACHE; Gloria Gerrity; Rebecca Stametz, DEd; et al.
Narrative (PDF) | Poster (PDF)
Code Stroke LVO: Multidisciplinary Quality Improvement Project to Decrease Door-to-Treatment Times for Stroke Patients
Vanesa Vanderhye, RN; Lynda Christel; Ali Turkmani, MD; et al.
---
Implementation of Patient Safety Huddles in an Ambulatory Care Setting at an Integrated Safety-Set System
Maham Chaudhry, William Walker, Grace-Julia Okoroji
---
Reducing Antibiotic Administration Delay in Emergency Department Sepsis Patients
Melissa Felder, AP-RN; Lisa Dykes, PharmD; Nichole Brown, RN; et al.
---
Patient Satisfaction
Optimizing Patient Communication Channels in Neuroscience Clinics
Ed Stefanowicz; Erick Lewis; Scott Friedenberg, MD; et al.
---
Staffing and Staff Engagement
Digital Approach to Nurse Recruitment for Increased Efficiency
Kamran Azimi; Tarun Mohan Lal, PhD; Tracey Blalock; et al.
Principles of Strategic Workforce Planning: Lessons From the Land of 10,000 Lakes
Trevor Coons; Tara Gosse; Julie McAdams
Narrative (PDF) | Poster (PDF)
---
Which Way Are We Rowing: The Power of Sharing Daily Metrics and Goals
Michael J. Kahn, Mary K. Owen, Laura C. Tibor, et al.
Narrative (PDF) | Poster (PDF)
---
Telemedicine
Bringing Specialty Care to Rural Communities With Telemedicine
Rachel Amundson, Eileen Anderson, Hollie Stegemann, et al.
Narrative (PDF) | Poster (PDF)
---
Workplace Safety
Leveraging Technology to Optimize Physical Safety and Security in Healthcare
Hugh Welch, Michael Schausten, Scott Powers, et al.
---
Project Safe Workplace: A Healthcare System's Approach to Workplace Violence Prevention
Catherine Barrett; Kristen Vogrin, RN
---
Contact Elizabeth Villagomez, research coordinator, at evillagomez@ache.org if you have any questions.