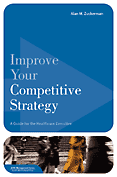 Improve Your Competitive Strategy: A Guide for the Healthcare Executive
ISBN: 9781567931778
Softbound, 2002
Order Code: 1147
ACHE Management
Book Description
Build and maintain a competitive advantage. This book explains various competitive strategies and how you can apply them at your organization.
This practical guide provides you with advice and approaches for:
Defining and implementing your competitive strategy
Uncovering market needs that could lead to competitive advantage
Anticipating and countering the moves of competitors
Using basic analytical techniques to perform competitive analyses
The book also explores emerging approaches to competitive strategy and provides a list of simple guidelines for taking your current strategy to new levels.