HAP Holiday Sale - Order any book now through Jan. 30 and receive a 20% discount when you use the promo code HOLIDAY20 at checkout. This discount excludes any multi-book sets that are already discounted and the Board of Governors Exam flashcards.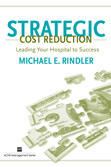 Strategic Cost Reduction: Leading Your Hospital to Success
ISBN: 9781567932676
Softbound, 198pp, 2007
Order Code: 2076I
ACHE Management
Member Price: $56.70
Non Member Price: $81.00
Book Description
According to author Michael Rindler, "Every hospital has the ability to reduce its costs by at least 5 percent annually without harming clinical quality or customer service." In Strategic Cost Reduction: Leading Your Hospital to Success, he reveals a proven, step-by-step leadership plan for managing costs at all types of hospitals in any location—from small rural hospitals to large urban academic medical centers.
With a focus on leadership approaches rather than financial techniques, this book explains how to alleviate the anxiety of cost reduction efforts and engage all managers, physicians, and employees in creating a financially healthy organization. You will learn practical strategies for building a cost-reduction culture, uncovering cost-saving opportunities, promoting accountability at all levels, and monitoring results.
What Readers Are Saying
"I agree with the cost reduction plan Mr. Rindler outlines in this book. His strategic approach—which includes a specific time frame, 25 clear steps, and mechanisms for accountability—has what it takes to produce sustainable results. There are less-structured approaches that might work temporarily, but they do not offer the long-term impact and success of Rindler's systematic strategy." —Alan J. Bleyer, FACHE, President/CEO, Akron General Health System"One of the most important challenges a hospital leader faces is creating and sustaining a mission-focused culture in their organization. This book underscores the important connection between cost effectiveness and organizational mission. Mr. Rindler explains how to reduce costs while keeping staff focused on the mission of the organization and provides practical strategies for using the mission to gain buy in and generate action." —Stephen P. Rochford, First Vice President, Ambac Assurance Corporation