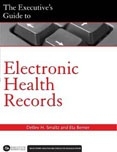 The Executive's Guide to Electronic Health Records
ISBN: 9781567932683
Softbound, 2007
Order Code: 2077
Book Description
This book provides a concise, non-technical overview of electronic health records (EHRs) for healthcare executives. It explains the costs and benefits of EHRs and provides guidance on the essential components of an EHR. Written in layman's terms, this resource will get you up to speed and increase your comfort level with this important technology.
This book provides straightforward information on:
What EHRs can do for your organization
Which EHR components are essential, and which components are luxuries
How to choose the right EHR vendor
What contracting strategies you should use to minimize your risk
How to avoid common implementation mistakes
How to gain physician buy in

A glossary at the end of the book clarifies IT jargon. A list of references and websites will point you toward additional information.