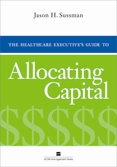 The Healthcare Executive's Guide to Allocating Capital
ISBN: 9781567939569
Softbound, 168pp, 2007
Order Code: 2085
ACHE Management
Member Price: $53.20
Non Member Price: $76.00
Book Description
Faced with more capital needs than available dollars, healthcare executives frequently struggle with making capital spending decisions. These decisions have lasting implications, and weighing the options can be a complex and daunting process. The Healthcare Executive's Guide to Allocating Capital can ease the anxiety involved with making capital spending decisions.
This straightforward guide provides a step-by-step approach to capital allocation and management that can be used in all healthcare organizations—from small community hospitals to large healthcare systems. Learn how to overcome many common challenges including accurately calculating capital availability, determining the metrics to be used to review projects, defining decision-making authority, and integrating decisions into strategic and financial planning. Real-life examples illustrate how to apply best-practice capital management in a variety of settings.
Use the strategies and tools in this book to improve the success of your capital management decision making, reduce the stress involved in making difficult investment choices, and manage the implementation of approved projects.
Topics covered include:
Linking capital allocation to strategic and financial planning processes
Determining how much capital can be spent in the near-term and long-term
Using quantitative and qualitative criteria to evaluate and rank capital requests
Standardizing methods for analyzing capital requests Allocating and managing non-project capital needs
Ensuring allocation of capital to non-revenue producing projects
Addressing emergency requests for capital
Tracking and managing capital projects after they are approved