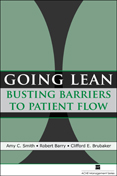 Going Lean: Busting Barriers to Patient Flow
ISBN: 9781567932812
Softbound, 206pp, 2007
Order Code: 2095
ACHE Management
Member Price: $56.00
Non Member Price: $80.00
Book Description
"Why is this patient still here?" Has this question crossed your mind while you are walking the halls of your organization? This book explains how the Lean Method can help you keep your patients moving smoothly through treatment.
It may sound technical, but it is not. The Lean Method is easy to understand, easy to visualize, and easy to apply. First it will help you identify what is keeping patients waiting. Once you uncover the barriers to smooth patient flow, you can use the Lean method to develop creative strategies for keeping patients moving. The Lean Method is a management system. It will help you uncover issues, set goals for solving the issues, and measure your progress toward achievement.
Lean has worked in real hospitals, real clinics, and real laboratories
The book includes numerous examples and success stories that illustrate the Lean Method in action. It contains specific recommendations for removing the barriers to flow that are commonly uncovered using the Lean Method.
When you improve patient flow, you'll see more revenue for the same assets, happier patients, and happier staff.
Learn about these strategies for improving patient flow:•Creating on observation unit distinct from inpatient units
•Redesigning compensation systems to favor patient flow
•Urging senior managers to spend time observing
•Requiring progress-tracking charts on everything of interest
•Encouraging caregivers to ask, "Why is this patient still here?"
•Creating a patient-flow desk to centralize admission control