HAP Summer Sale: Order any book now through September 7 and receive a 20% discount when you use the promo code SUMMER21 at checkout. This discount excludes any multi-book sets that are already discounted and the ACHE Board of Governors Examination flashcards.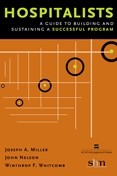 Hospitalists: A Guide to Building and Sustaining a Successful Program
ISBN: 9781567932836
Softbound, 288pp, 2007
Order Code: 2097
ACHE Management
Book Description
As knowledgeable clinicians and professionals, hospitalists have the ability to make major contributions to quality, patient safety, resource utilization, and patient flow. Is your organization realizing the full benefits of hospital medicine? Use the strategies and tools in this book to develop, implement, and sustain a successful hospitalist program.
Strategic planning for your hospitalist program
The first half of the book provides a strategic perspective on hospital medicine. It explains how to evaluate return on investment, summarizes high-level dos and don'ts, and presents an overview of legal and contracting considerations.
Best practices for managing your hospital medicine group
The second part of the book focuses on the details of implementing and sustaining a successful hospital medicine program. It covers a wide range of topics including compensation and performance management, communications, staffing, the role of the medical director, information systems, and billing revenue.
Companion website includes: Appendixes A through G and a sample hospitalist contract.
What Readers Are Saying
"As the chief executive officer, I can recount firsthand how our hospitalist program has improved patient care in our facilities. This book offers concrete, practical advice on how to build and sustain a well-managed hospitalist program. It covers a wide range of topics—from scheduling to performance reporting—that must be addressed to achieve success with regard to quality of care, throughput, the bottom line, and medical staff satisfaction."
—David L. Bernd, FACHE, Chief Executive Officer, Sentara Healthcare and Past President, American Hospital Association (from the Foreword)