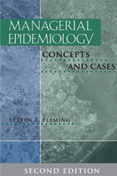 Managerial Epidemiology: Concepts and Cases, Second Edition
ISBN: 9781567932928
Hardbound, 2008
Order Code: 2103
AUPHA/HAP Book
Non Member Price: $107.00
Book Description
The Third Edition of this book was published in December 2014. To request an exam copy of the Third Edition, please click here. If you need a desk copy of the Second Edition, please contact hapbooks@ache.org.
This book provides a comprehensive introduction to epidemiology and explains how to use epidemiological concepts and tools to improve decisions about the management of health services. Throughout the book, basic principles are presented and then expanded upon with healthcare management applications and case studies.
This edition features a new approach. Rather than separating epidemiology principles from application, it blends theory and application in each chapter.
This edition features:
New chapters on infectious disease epidemiology, morbidity, mortality, descriptive epidemiology, and cost-effectiveness analysis
Summary application chapters that focus on cardiovascular disease, HIV, and dementia
More than 40 in-depth case studies of varying levels of difficulty, along with questions and detailed answers
Contributions from experts in the field provides different points of view

 

Instructor Resources: Additional case studies with examination questions and PowerPoint slides. To see a sample, click on the Instructor Resource sample tab above.