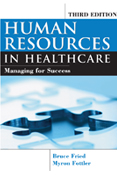 Human Resources in Healthcare: Managing for Success, Third Edition
ISBN: 9781567932997
Hardbound, 2008
Order Code: 2115
AUPHA/HAP Book
Non Member Price: $115.00
Book Description
Human Resources in Healthcare: Managing for Success, Third Edition, presents the techniques and practices behind effectively managing people—the healthcare industry's most important asset. It provides the concepts and practical tools necessary for meeting the unique challenge of managing healthcare employees.
Key Features:
This edition includes:

An expanded chapter on health and safety in the workplace, highlighting disaster preparedness and management
A new chapter on globalization and the mobile workforce
A new chapter focusing on employee benefits and benefit design
An expanded chapter on training and career development
A new section containing complex cases

Chapters include cases, discussion questions, and exercises
Covers fundamental topics as well as timely issues
Instructor Resources: Chapter overviews and suggested class activities and assignments. To see a sample, click on the Instructor Resource sample tab above..