HAP Summer Sale: Order any book now through September 7 and receive a 20% discount when you use the promo code SUMMER21 at checkout. This discount excludes any multi-book sets that are already discounted and the ACHE Board of Governors Examination flashcards.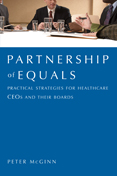 Add To Cart
Partnership of Equals: Practical Strategies for Healthcare CEOs and Their Boards
ISBN: 9781567933116
Softbound, 176pp, 2009
Order Code: 2122I
ACHE Management
Member Price: $58.10
Non Member Price: $83.00
Book Description
Effective healthcare organizations need collaborative CEO/board relationships. Author Peter McGinn, a former health system CEO and a former board member, has been on both sides of the boardroom table. This book provides his seasoned advice for building a positive and productive partnership between the CEO and the board.
McGinn suggests a new metaphor for the CEO/board relationship: the CEO as the consultant and the board as the client. Throughout the book, he provides strategies CEOs can use to coach and advise board members. He also provides guidelines for board members. There are differences in the roles of the board and CEO, but there is a level of parity as well—it is a partnership of equals. This book explains how to enhance the strengths of each party.
Topics covered include:
Getting the right people on the board
Coaching physician board members
Grooming future executive committee members
Establishing and maintaining performance standards
Managing real or perceived problems and crises
Building trust, confidence, and respect
Maximizing participation and contributions
Making difficult decisions
What Readers Are Saying
"I found McGinn's common-sense approach to be extremely compelling. He is right on target that the CEO needs to be a consultant to the board. The CEO's role is to point the way, educate, and provide direction, but ultimately the board must approve and support. McGinn's strategy of collaboration, consultation, and coaching is a recipe for success." —J. Thomas Jones, FACHE, President/CEO, West Virginia United Health System"McGinn has called upon his years as a counselor and a hospital CEO to provide a thought-provoking metaphor for CEO–board relationships. For CEOs, balancing 'being the leader' without 'being in charge' is always a fine line. McGinn's approach will help CEOs strike the right balance." —Richard J. Umbdenstock, FACHE, President and CEO, American Hospital Association"McGinn's metaphor of the CEO as consultant resonates with me. The CEO, as the organization's content expert, does have the opportunity to serve as the most important consultant the board could have. McGinn cleverly enables the reader to imagine the board—CEO relationship as a partnership of equals as the respective players use their complimentary skills and insight to advance the organization. I wholeheartedly recommend this book." —Ronald R. Peterson, President, Johns Hopkins Health System"As a sitting board chair and seasoned board member, I find McGinn's book a breath of fresh air. Especially helpful are his practical implementation guidelines that are sprinkled throughout the book." —Patrick Hays, FACHE, Board Chair, Trinity Health"This book highlights the importance of building a strong governance structure that is teamed with management. As the book stresses, CEOs must clearly become both a partner and staff consultant to their board while carrying out their myriad of responsibilities. This book is a must-read for all who see excellence in governance as a critical factor for future success." —Thomas C. Royer, MD, President and CEO, Christus Healthcare"McGinn's how-to guide on board dynamics effectively blends the consultant's world of independent objectivity with the pressure-cooker environment of today's healthcare leader. What results is a book that flows easily, packs wisdom tightly, and yields insights aplenty. Healthcare CEOs will find pearls of wisdom pertinent to their experience and their needs." —Daniel Sisto, President, Healthcare Association of NY State"I found this material to be very insightful. McGinn has a unique background for assessing the relationship dynamics between boards and CEOs. Effective board relationships include far more then setting agendas and making presentations. It is important that the time be found for reflection, communication and relationship building. This is the essence of this material and why this book can help CEOs." —Mark Stensager, President and CEO, Guthrie Healthcare System