HAP Summer Sale: Order any book now through September 7 and receive a 20% discount when you use the promo code SUMMER21 at checkout. This discount excludes any multi-book sets that are already discounted and the ACHE Board of Governors Examination flashcards.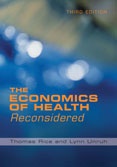 The Economics of Health Reconsidered, Third Edition
ISBN: 9781567933284
Hardbound, 496pp, 2009
Order Code: 2133
AUPHA/HAP Book
Non Member Price: $105.00
Book Description
This book reconsiders the field of health economics as it is traditionally taught and practiced. It critically examines economic theory as applied to the health sector and questions the prevailing belief that a competitive healthcare marketplace results in the best outcomes.
New information, including an overview of standard microeconomic theory, makes this new edition an ideal stand-alone text for health economics and health policy courses.
Expanded and thoroughly updated, this edition features:
A new chapter on traditional microeconomic theory that includes an overview of demand, supply, competition, monopoly, and social welfare
An expanded overview of the role of government
Added information about market competition and the implications for health policy
Expanded information about the demand for health insurance and health services
A new chapter discussing for-profit versus nonprofit organizations in healthcare, including specialty hospitals and the nursing home and pharmaceutical industries
A new chapter on healthcare-workforce issues including the markets for physicians and nurses
An update on the different ways developed countries can and have organized their healthcare systems

 

Instructor Resources: Important chapter concepts, discussion questions with answers, and additional readings. New PowerPoint slides relate healthcare reform implications to the applicable chapters in the text. To see a sample, click on the Instructor Resource sample tab above.
What Readers Are Saying
"This edition of The Economics of Health Reconsidered represents a timely and thoughtful examination of economics and U.S. health policy. It should be considered required reading for serious students of health policy."
—Sara Rosenbaum, JD, Harold and Jane Hirsh Professor of Health Law and Policy, Chair of the Department of Health Policy, The George Washington University School of Public Health and Health Services
"The first two editions of this text were ground breaking, and the third edition continues this tradition. The authors offer a unique perspective on issues surrounding and underlying health economics. An ideal stand-alone text, the book includes new chapters on microeconomic theory, profit versus nonprofit organizations, and labor and health economics. The text is excellent, and I recommend it to all those new to health economics, and most of those who are not."
—Bruce Hollingsworth, Professor and Director, Centre for Health Economics, Monash University, Australia
"As the U.S. health care system is being reformed and restructured, students, policy makers, and practitioners need to understand how economic incentives operate in the real world. The Economics of Health Reconsidered, by Rice and Unruh provides the necessary economic tools and knowledge."
—Harold S. Luft, PhD, Professor Emeritus of Health Economics and Health Policy, University of California San Francisco and Director, Palo Alto Medical Foundation Research Institute
"Rice and Unruh shake health economics out of its traditional smugness and ask hard questions about assumptions that have gone unchallenged for too long. They confront abstract economic theory with concrete research evidence. The third edition features a balanced, empirically-based assessment of the profit motive in healthcare—just in time to inform the inevitable transformation of the US health sector."
—Pauline Vaillancourt Rosenau, PhD, Professor, University of Texas
"Too often books entitled 'The Economics of' focus only on models of abstract markets. This book is different. It covers the conventional theories, but it also delves into the underlying issues of quality, need, motivation, innovation, and political power that make contemporary health care systems so complex. If you want to understand real health economics, read this book."
—Julie A. Nelson, PhD, Associate Professor, University of Massachusetts - Boston
"Earlier editions of this book were genuine path breakers. This updated and broadened edition maintains that role and its international accessible tone. This book is excellent teaching material and should be read by anyone interested in the economics of health care - and today, who isn't?"
—Gavin Mooney, Professor of Health Economics, University of Sydney and University of Cape Town.