HAP Summer Sale - Order any book or self-study course now through Sept. 30 and receive a 20 percent discount when you use the promo code SUMMER20 at checkout. This discount excludes any already discounted bundles, Futurescan 15-packs, and the Board of Governors Exam Study Set and Flashcards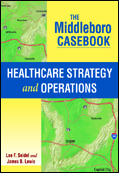 The Middleboro Casebook: Healthcare Strategy and Operations
ISBN: 9781567936285
Softbound, 296pp, 2014
Order Code: 2258
Book Description
Learn more about this new text in The Middleboro Casebook brochure!
Instructor Resources: An extensive instructor's manual that includes 130 pages of detailed teaching notes and suggested assignments. Also includes 32 Excel tables. This manual provides guidance and additional assignments for using this casebook as a supplement to other Health Administration Press textbooks including:
There is no substitute for real-world experience, but this casebook comes close! The Middleboro Casebook: Healthcare Strategy and Operations is an integrated case study focused on the fictional community of Middleboro and the seven healthcare organizations that serve it, including two hospitals, a long-term care facility, a home health agency, two physician group practices, and a local health department. A thorough examination of Middleboro and its demographic, socioeconomic, political, epidemiological, and environmental data and characteristics enables students to analyze the community in detail, focusing on those factors that drive the need for and use of healthcare services as well as framing the strategic decisions made by healthcare organizations. Included in this book are eight cases that cover authentic management scenarios, including:
History
Governance
Organizational structure
Programs and services
Finance
Operational challenges
The Middleboro Casebook can be used in a capstone course at the graduate or undergraduate level, or it can be used across the curriculum in health administration, health policy, and public policy programs. When using this casebook and the corresponding activities, students will become familiar with a variety of healthcare settings and the challenges managers currently face. Students will develop the management skills they need to succeed in real-world settings, bridging their current academic study with relevant professional practice.