HAP Summer Sale |
20% Off
Order any book now through September 5 and receive a 20% discount off the member and non-member price when you use the promo code SUMMER22 at checkout. This discount excludes any multi-book sets and bundles that are already discounted and the ACHE Board of Governors Exam Flashcards.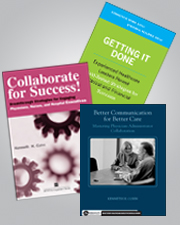 Healthcare Transformation Book Set by Kenneth Cohn
2014
Order Code: 2267
Non Member Price: $126.00
Book Description
As healthcare transforms due to legislation such as the Affordable Care Act, it taxes all hospital leaders with many unanswered questions. Are you unsure how to confidently lead into the future with such uncertainty? We can help! The Healthcare Transformation Book Set walks you through the importance of hospital leaders and physicians working together to improve care for your community.
Healthcare Transformation Book Set by Kenneth Cohn
Three Book Set: $126 (a 40% savings off the single-copy prices)
This set will highlight specific ways for physicians and administrators to work together:
"Twenty-first century healthcare leaders need to move beyond strategies and tactics that have worked in the past. Reading the stories in this book gives me hope that it will happen during my lifetime."
- Michele M. Molden, Executive Vice President and Chief Transformation Officer, Piedmont Healthcare on Getting It Done: Experienced Healthcare Leaders Reveal Field-Tested Strategies for Clinical and Financial Success
"One of the highest priorities for healthcare leaders in enhancing physician and hospital integration. Dr. Cohn clearly outlines specifics tools and methodologies for building stronger relationships. This book includes vibrant discussions based on personal experience on such topics as the competing physician, the need for structured dialogue, and the consequences of workplace burnout."
- Thomas C. Royer, MD, president and CEO, CHRISTUS Health, Irving, TX on Better Communication for Better Care: Mastering Physician Administrator Collaboration