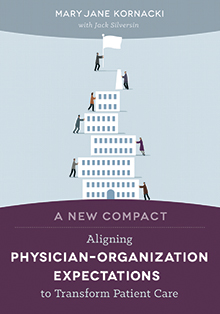 Add To Cart
A New Compact: Aligning Physician–Organization Expectations to Transform Patient Care
ISBN: 9781567937039
Softbound, 209pp, 2015
Order Code: 2282I
ACHE Management
Member Price: $54.60
Non Member Price: $78.00
Book Description
Forewords by James L. Reinertsen and Edgar H. Schein
Rewriting the Unwritten Rules to Change Patient Care for the Better!
With healthcare reform a priority and traditional physician roles shifting, mutually agreed-on expectations between physicians and organizations are essential to bring change and lasting results. Typically, these expectations have been unarticulated and merely assumed. A new, written compact—a set of explicit terms carefully negotiated by doctors and administrators to define their relationship through dialogue and respectful airing of different perspectives—is foundational to partnership and successful performance. This book provides an in-depth look at the background, development, and implementation of a new compact to strengthen and align expectations in today's healthcare environment. Learn how organizations can use a physician–organization compact to integrate various entities brought together through mergers or acquisitions, to support clinical integration, and to engage physicians.
Practical applications throughout the book include:
Seven case studies of organizations whose new compacts have changed relationships and furthered their success
Lessons learned from these case studies that organizations can apply in their own environments
A step-by-step process for developing and implementing a new compact, including who should be involved at each step
With the guidance presented in this book, senior executives, mid-level managers, and physician leaders alike can gain a comprehensive understanding of how to successfully develop and implement a new compact organization-wide or locally in a department, service line, or site.
"As the patient safety movement has matured, its focus has shifted from systems change to teamwork to culture. Healthcare organizations will be unable to create safe care for their patients without significant culture change. In A New Compact, Mary Jane Kornacki explains how the development of a compact aligns physicians and administrators behind the vision and the strategic plan necessary to bring about that culture change. A must-read guide for healthcare CEOs"
- Lucian L. Leape, MD, Harvard School of Public Health
"Compact building is a tested path to constructive conversations and positive outcomes by turning implicit assumptions into explicit agreements. This book shares the experiences of organizations that successfully developed compacts and will help those early on this path benefit from the learning of others."
- David C. Herman, MD, CEO, Essentia Health
"Kornacki summarizes over a decade of experience across a variety of organizations applying organizational behavior and management theory to create a new relationship between physicians and organizations. Vivid examples show how attention to alignment, focus on the journey rather than the destination, sharing ownership, trust, and accountability can create a new environment for success."
- Gregg S. Meyer, MD, MSc, chief clinical officer, Partners HealthCare Systems, Inc.