HAP Summer Sale: Order any book now through September 7 and receive a 20% discount when you use the promo code SUMMER21 at checkout. This discount excludes any multi-book sets that are already discounted and the ACHE Board of Governors Examination flashcards.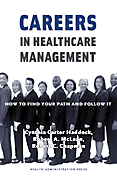 Careers in Healthcare Management: How to Find Your Path and Follow It
ISBN: 9781567931747
Softbound, 190pp, 2002
Order Code: 1144
Member Price: $39.90
Non Member Price: $57.00
Book Description
This book provides healthcare management career advice including information about where managers work, the type of management positions that are available, and the skills managers need to be successful. Suggestions are offered for finding and using a mentor, pursuing graduate or continuing education, and honing management skills.
The heart of the book contains 51 profiles of healthcare managers at various career stages. In their own words, these managers describe how they prepared for their careers, what their greatest challenges have been, and what advice they would provide to new managers.