HAP Holiday Sale - Order any book now through January 7, 2022 and receive a 20% discount when you use the promo code HOLIDAY21 at checkout. This discount excludes any multi-book sets that are already discounted and the Board of Governors Exam flashcards.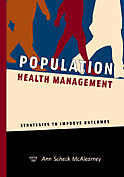 Population Health Management: Strategies to Improve Outcomes
ISBN: 9781567931877
Hardbound, 2003
Order Code: 1162
AUPHA/HAP Book
Book Description
This text is a comprehensive look at the issues surrounding population health management. The author defines populations, examines strategies to benefit different target groups, and suggests implementation strategies. The book describes different issues involved in establishing a population health management program, including the various ways health researchers can help design, implement, and evaluate different population health strategies.