HAP Summer Sale |
20% Off
Order any book now through September 5 and receive a 20% discount off the member and non-member price when you use the promo code SUMMER22 at checkout. This discount excludes any multi-book sets and bundles that are already discounted and the ACHE Board of Governors Exam Flashcards.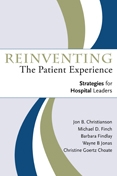 Add To Cart
Reinventing the Patient Experience: Strategies for Hospital Leaders
ISBN: 9781567932782
Softbound, 200pp, 2007
Order Code: 2092I
ACHE Management
Member Price: $56.70
Non Member Price: $81.00
Book Description
Are you proud of the patient experience your hospital provides?
Are you confident that your hospital is the provider of choice in your community?
Does your hospital provide the experience you would want for your family members or friends if they were hospitalized?
The emerging age of consumerism in healthcare is forcing hospitals to reexamine their traditional practices and provide greater sensitivity and responsiveness to patient preferences. Conventional customer service training is no longer enough. Reinventing the Patient Experience provides the advice and inspiration you need to make significant changes in the way your patients experience care in your hospital.
The book draws lessons from the experiences of hospitals considered innovators in patient-centered care. This diverse group of organizations illustrates how integrating "high touch" and "high tech" care is possible at hospitals of all types and sizes. You will learn what strategies they put in place, what barriers they faced, how they moved past roadblocks, and what their keys to success were. Leaders from these pioneering organizations share how they tackled various implementation and operational issues in the areas of physical environment, nursing services, complementary therapies, spirituality, leadership, and sustainability.
Explore these four components of patient-focused care:
Designing facilities to minimize stress, support family involvement, and remove physical barriers between nurses and patients
Emphasizing a personalized relationship between nurses and patients, with more "hands-on" care provided by nurses at the bedside
Increasing the availability and use of complementary therapies in an inpatient setting to meet the general increase in patient demand for these therapies
Moving beyond the traditional role of the hospital chaplain and training hospital staff to provide spiritual support for patients and family members