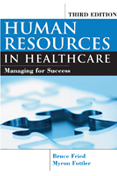 Growing Leaders in Healthcare: Lessons from the Corporate World
ISBN: 9781567933123
Softbound, 80pp, 2009
Order Code: 2125
Executive Essentials Book
Member Price: $35.00
Non Member Price: $50.00
Book Description
The most successful corporations recognize that leadership is their only sustainable competitive advantage. How are you fostering the future leaders of your organization?
Growing Leaders in Healthcare shares strategies from corporations recognized for their history of successful leadership development. Healthcare executives can use these same best practices to cultivate high-potential employees, develop succession plans, reduce turnover, and foster a strong culture of leadership in their organizations.
This book provides tools and advice senior executives can use to formalize leadership evaluation and development activities. Exercises throughout the book will help leaders assess their organizations' current practices and effectively implement new strategies. These lessons can be applied to all healthcare organizations, regardless of size and complexity.
What Readers Are Saying
"The evidence is clear that high-performing leaders make a tremendous difference in the success of their organizations. Lee and Herring's book provides concise and powerful guidance on building the strong pipeline of leaders that is vital for any healthcare organization that is serious about its future. This book is a must-read for all healthcare executives and their boards!"
—Edward Betof, EdD, Senior Fellow/Academic Director, Executive Program in Workplace Learning Leadership, University of Pennsylvania
"Leadership in healthcare organizations is the essential element of our success. This book clearly summarizes how to identify, assess, develop, and place leaders and provides tools to measure their success and effectiveness. Through the implementation of these concepts, our industry can continue to attract and retain the capable professionals who will demonstrate that leadership is the critical ingredient in responding to challenges and opportunities."
–Christopher J. Durovich, FACHE, Chief Executive Officer, Children's Medical Center, Dallas"When improving processes and quality, leadership is the most critical factor. Growing Leaders in Healthcare makes a compelling case for leadership development and, more importantly, spells out a process for developing internal leaders who embody and continue your hospital's values instead of just hiring a new leader from the outside."
–Mark Graban, author of Lean Hospitals: Improving Quality, Patient Safety, and Employee Satisfaction