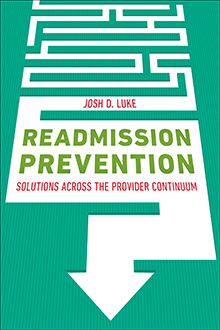 Readmission Prevention: Solutions Across the Provider Continuum
ISBN: 9781567937107
Softbound, 328pp, 2015
Order Code: 2284
ACHE Management
Member Price: $54.60
Non Member Price: $78.00
Book Description
As a result of the Affordable Care Act (ACA), readmissions have become a new area of focus as care delivery moves from a volume-based model to a value-based one. Acute hospitals are calling upon post-acute providers to assist them in improving care coordination to avoid penalties. Post-acute providers are taking steps to become the provider of choice as hospitals, health systems, and managed care organizations turn to them for support. In the absence of proven historical programs, this book gives hospital executives and post-acute care providers proven tactics and tools they can apply to reduce and prevent unnecessary hospitalizations. Written in a conversational style by a seasoned healthcare executive, the book starts by defining the origins of readmissions and the impact of the ACA, then describes three phases of readmission prevention planning and offers innovative strategies for executives to position their facility as a provider of choice. Specific readmission prevention tactics are addressed for different levels of post-acute care, including:
Acute care hospitals and health systems
Skilled nursing facilities
Physicians and Pharmacists
Long-term acute care and acute rehabilitation hospitals
Home health agencies
Hospice and palliative care agencies
Assisted-living facilities
Home care and private-duty nursing
Throughout the book, short perspectives written by experts in the different specialty areas provide additional viewpoints on critical issues in care transitions. The book concludes with case examples from healthcare organizations that have successfully implemented new tactics and strategies as part of a larger coordinated program in preventing readmissions.