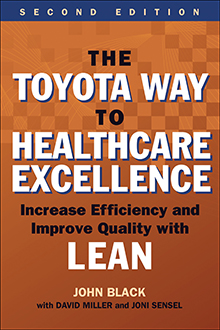 The Toyota Way to Healthcare Excellence: Increase Efficiency and Improve Quality with Lean, Second Edition
ISBN: 9781567937824
Softbound, 530pp, 2016
Order Code: 2306
ACHE Management
Member Price: $49.00
Non Member Price: $70.00
Book Description
The Toyota Production System model, or Lean, originated in manufacturing but has since emerged as a powerful tool for providing safe, compassionate, error-free healthcare. This book examines trailblazing work in several organizations that committed to applying Lean principles and processes in a new environment, and it shares the insights of leaders who credit Lean with dramatically improving their operations and outcomes.

This book explains what Lean is, how it works, and how it can benefit your organization. The implementation of Lean can increase patient and staff satisfaction; improve patient care; cut waste, clutter, and confusion; eliminate errors that result in patient and staff harm; lower costs; raise profitability; and enhance your operation's reputation.
This new edition explores how Lean can transform healthcare at any level. Four new chapters describe the implementation of Lean in the healthcare system of Saskatchewan, Canada—a province that employs more than 40,000 healthcare workers to serve a population of 1.13 million people scattered over 251,900 square miles. The authors share numerous lessons learned from launching such a large-scale improvement effort, addressing such issues as overcoming resistance to change and engaging patients and care providers in the implementation. No organization is too big to tackle a Lean transformation: The bigger the system being improved, the larger the potential gains.
In addition, a new epilogue presents an update on previous cases and shares the perspectives of three leaders looking back on their implementations, considering long-term success, and offering their most seasoned advice.
"Today, 14 years into our journey, the answer is still clear. Lean is the management system Virginia Mason needed. We're past the tipping point, and the results continue to be powerful in their positive impact for our patients and staff."
—Gary Kaplan, CEO, Virginia Mason Medical Center