HAP Holiday Sale - Order any book now through January 7, 2022 and receive a 20% discount when you use the promo code HOLIDAY21 at checkout. This discount excludes any multi-book sets that are already discounted and the Board of Governors Exam flashcards.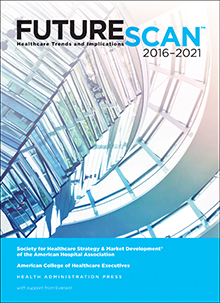 Futurescan 2016: Healthcare Trends and Implications 2016-2021
ISBN: 9780872589698
Softbound, 48pp, 2016
Order Code: 2308
HAP Book
Book Description
SHARE IMPORTANT TREND INFORMATION WITH YOUR BOARD AND STAFF! PACKS OF 15 COPIES ARE AVAILABLE AT A 40% DISCOUNT OFF THE SINGLE-COPY PRICE. Purchase your 15-pack today!
This highly respected annual guide to healthcare trends will help organizations plan for the future. In Futurescan 2016–2021, a panel of industry thought leaders addresses eight key issues regarding healthcare change and transformation. The expert insight in these pages is supported by data from a survey of 507 healthcare leaders across the country.

An essential tool for strategic planning, Futurescan 2016–2021 examines these notable topics:
Engaging increasingly value-conscious consumers
Exploring capital models required to finance healthcare
Identifying change leadership competencies for the future
Accelerating innovations that improve value
Implementing healthcare transformation at a massive scale
Adopting health promotion and wellness programs that work
Assuming risk for defined populations
Integrating behavioral health and medical care
Please note that complimentary exam copies of this title are available only in digital format. Submit your request and course information to: hapbooks@ache.org.